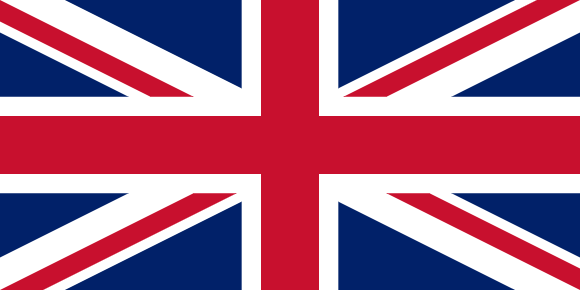 The United Kingdom flag, popularly known as the Union Jack by the British, has been in use since 1603 when Scottish King James VI became King of England.
The flag's symbolism expresses the connection between England, Scotland, and Wales.
The primary motif is a red cross of St. George, the patron saint of England.
The cross is framed by a larger white cross against a blue background.
The white diagonal cross should evoke St. Andrew, Scotland's patron saint.
Ireland is represented by a red diagonal cross, which is the patron saint of Ireland, St. Patrick.
The Irish cross was not introduced until 1801, when Ireland joined the United Kingdom.
The Union Jack pattern appears on many flags as a reminder of Britain's colonial heritage.
United Kingdom flag downloads
Icon Flags
Raster Flags
Vector Flags
Icon Flags
Download The United Kingdom flag Icon files
completely free for commercial and non-commercial use (public domain)
based on vector file from Wikipedia Commons
PNG or WebP format (lossless compression)
Right click on the links (save link as)
Original flags
Waving flags
Click on the link if you need to >>
download all country Icon flags
Raster Flags
Vector Flags
The United Kingdom is a sovereign country located off the northwest coast of Europe. It consists of four countries: England, Scotland, Wales, and Northern Ireland. The UK has a long and rich history, with its origins dating back to ancient civilizations such as the Celts and Romans. The country has played a significant role in global politics and has been a major economic and cultural power for centuries.
The UK has a diverse and multicultural society, with people from many different ethnic and cultural backgrounds living and working together. The country is known for its cultural contributions, including literature, music, art, and film, which have had a significant impact on the global cultural landscape. The UK is also home to many world-famous landmarks, including Buckingham Palace, the Tower of London, and Stonehenge.
The UK has a strong economy, with a diverse range of industries including finance, manufacturing, and service sectors. It is a leader in many areas of research and innovation, and it is home to many top universities and research institutions. Despite its many challenges, the UK remains a major global power and an important player in international politics and economics.
Independent

Yes

Country codes

GB, GBR (ISO 3166-1)

Official name

United Kingdom of Great Britain and Northern Ireland

Official languages

English

Religion

46.2% Christianity, 37.2% No religion, 6.5% Islam, 1.7% Hinduism, 2.5% Other, 6% Undeclared

Capital city

London

Continent

Europe

Time zone

UTC (Greenwich Mean Time, WET) • Summer (DST) UTC+1 (British Summer Time, WEST)

Member of

United Nations
NATO
Commonwealth of Nations

Population

68,771,861 (2023)

Population density

281 per Km2 (727 people per mi2)

Urban Population

83.2 % of the population is urban (56,495,180 people in 2020)

Migrants (net)

260,650

Median age

40.5 years

Total area

The total land area is 241,930 Km2 (93,410 sq. miles)

Highest point

Ben Nevis (1 345 m, 4 413 ft)

Lowest point

The Fens (-4 m, -13 ft)

GDP per capita

$ 46,510 (World Bank, 2021)

Currency

British pound (£, GBP)

Calling code

+44

Internet TLD

.uk (click here to find and register domain name)

Country Wikipedia Page

United Kingdom Wikipedia Page
Main Cities by Population in United Kingdom
| # | CITY NAME | POPULATION |
| --- | --- | --- |
| 1 | London | 7,556,900 |
| 2 | Birmingham | 984,333 |
| 3 | Liverpool | 864,122 |
| 4 | Nottingham | 729,977 |
| 5 | Sheffield | 685,368 |
| 6 | Bristol | 617,280 |
| 7 | Glasgow | 591,620 |
| 8 | Leicester | 508,916 |
| 9 | Edinburgh | 464,990 |
| 10 | Leeds | 455,123 |
| 11 | Cardiff | 447,287 |
| 12 | Manchester | 395,515 |
| 13 | Stoke-on-Trent | 372,775 |
| 14 | Coventry | 359,262 |
| 15 | Sunderland | 335,415 |
| 16 | Birkenhead | 325,264 |
| 17 | Islington | 319,143 |
| 18 | Reading | 318,014 |
| 19 | Kingston upon Hull | 314,018 |
| 20 | Preston | 313,332 |
| 21 | Newport | 306,844 |
| 22 | Swansea | 300,352 |
| 23 | Bradford | 299,310 |
| 24 | Southend-on-Sea | 295,310 |
| 25 | Belfast | 274,770 |
| 26 | Derby | 270,468 |
| 27 | Plymouth | 260,203 |
| 28 | Luton | 258,018 |
| 29 | Wolverhampton | 252,791 |
| 30 | City of Westminster | 247,614 |
| 31 | Southampton | 246,201 |
| 32 | Blackpool | 239,409 |
| 33 | Milton Keynes | 229,941 |
| 34 | Bexley | 228,000 |
| 35 | Northampton | 215,963 |
| 36 | Archway | 215,667 |
| 37 | Norwich | 213,166 |
| 38 | Dudley | 199,059 |
| 39 | Aberdeen | 196,670 |
| 40 | Portsmouth | 194,150 |
| 41 | Newcastle upon Tyne | 192,382 |
| 42 | Sutton | 187,600 |
| 43 | Swindon | 185,609 |
| 44 | Crawley | 180,508 |
| 45 | Ipswich | 178,835 |
| 46 | Wigan | 175,405 |
| 47 | Croydon | 173,314 |
| 48 | Walsall | 172,141 |
| 49 | Mansfield | 171,958 |
| 50 | Oxford | 171,380 |
| 51 | Warrington | 165,456 |
| 52 | Slough | 163,777 |
| 53 | Bournemouth | 163,600 |
| 54 | Peterborough | 163,379 |
| 55 | Cambridge | 158,434 |
| 56 | Doncaster | 158,141 |
| 57 | York | 153,717 |
| 58 | Poole | 150,092 |
| 59 | Gloucester | 150,053 |
| 60 | Burnley | 149,422 |
| 61 | Huddersfield | 149,017 |
| 62 | Telford | 147,980 |
| 63 | Dundee | 147,710 |
| 64 | Blackburn | 146,521 |
| 65 | Basildon | 144,859 |
| 66 | Middlesbrough | 142,707 |
| 67 | Bolton | 141,331 |
| 68 | Stockport | 139,052 |
| 69 | Brighton | 139,001 |
| 70 | West Bromwich | 135,618 |