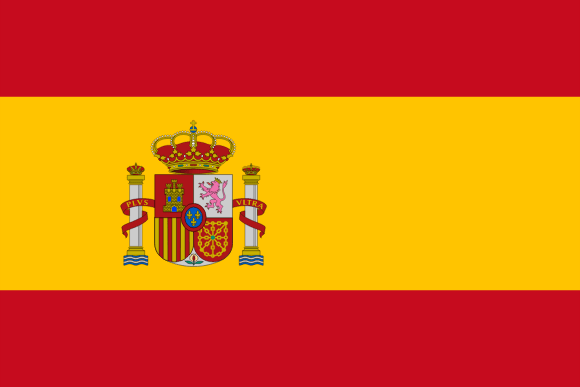 The Spanish national flag, as specified by the 1978 Constitution, consists of three horizontal stripes: red, yellow, and red, with the yellow stripe being twice as wide as the red stripes. Because of the center stripe hue, which was previously referred to as gualda, it is often known as la Rojigualda (red-weld).
The current Spanish flag derives from the naval ensign of 1785, known as the Pabellón de la Marina de Guerra, designed by Antonio Valdés y Bazán for King Charles III of Spain. Charles III chose this design from among 12 others, and it was initially employed by the naval troops.
During the Peninsular War, marine regiments frequently utilized it to battle inland. The flag was first distributed to land units in 1820, and it was not until 1843 that Queen Isabella II of Spain officially designated it as the national flag.
The color scheme of the flag remained unaltered throughout the nineteenth and twentieth centuries, with the exception of the Second Republic period, when the only changes made to the flag were on the coat of arms but not the color scheme.
Icon Flags
Raster Flags
Vector Flags
Icon Flags
Download Spain flag Icon files
completely free for commercial and non-commercial use (public domain)
based on vector file from Wikipedia Commons
PNG or WebP format (lossless compression)
Right click on the links (save link as)
Original flags
Waving flags
Click on the link if you need to >>
download all country Icon flags
Raster Flags
Vector Flags
Spain is a country located in southwestern Europe, bordered by Portugal to the west, France to the northwest, and Andorra and Gibraltar to the northeast. It is a country with a rich cultural heritage and a mix of different ethnicities and religions. Spain is known for its stunning natural beauty, with a varied landscape ranging from mountains and forests to beaches and coastlines.
The history of Spain dates back to ancient times, with the first human settlements dating back to at least 35,000 years ago. The country has a long and complex history, with a mix of Roman, Visigothic, and other influences. Spain gained independence from the Roman Empire in the 5th century, and has since gone through a number of political and economic challenges.
Today, Spain is a high-income country with a large and diversified economy. The country is known for its tourism industry, as well as for its production of agricultural products such as wheat, corn, and livestock. Spain has a Mediterranean climate, with hot, dry summers and mild, wet winters. The official language of Spain is Spanish, and the country has a diverse population with a mix of different ethnicities and religions.
Independent

Yes

Country codes

ES, ESP (ISO 3166-1)

Official name

Kingdom of Spain

Official languages

Spanish

Religion

75.2% Christianity, 21.0% No religion, 3.3% Islam, 0.5% Other

Capital city

Madrid

Continent

Europe

Time zone

UTC⁠±0 to +1 (WET and CET) • Summer (DST) • UTC+1 to +2 (WEST and CEST)

Member of

United Nations
European Union
NATO

Population

46,801,571 (2023)

Population density

94 per Km2 (243 people per mi2)

Urban Population

80.3 % of the population is urban (37,543,537 people in 2020)

Migrants (net)

40,000

Median age

44.9 years

Total area

The total land area is 498,800 Km2 (192,588 sq. miles)

Highest point

Teide (3 718 m, 12 198 ft)

Lowest point

North Atlantic Ocean

GDP per capita

$ 30,103 (World Bank, 2021)

Currency

Euro (€, EUR)

Calling code

+34

Internet TLD

.es (click here to find and register domain name)

Country Wikipedia Page

Spain Wikipedia Page
Main Cities by Population in Spain
| # | CITY NAME | POPULATION |
| --- | --- | --- |
| 1 | Madrid | 3,255,944 |
| 2 | Barcelona | 1,621,537 |
| 3 | Valencia | 814,208 |
| 4 | Sevilla | 703,206 |
| 5 | Zaragoza | 674,317 |
| 6 | Malaga | 568,305 |
| 7 | Murcia | 436,870 |
| 8 | Palma | 401,270 |
| 9 | Las Palmas de Gran Canaria | 381,847 |
| 10 | Bilbao | 354,860 |
| 11 | Alicante | 334,757 |
| 12 | Cordoba | 328,428 |
| 13 | Valladolid | 317,864 |
| 14 | Vigo | 297,332 |
| 15 | Gijon | 277,554 |
| 16 | Eixample | 266,477 |
| 17 | L'Hospitalet de Llobregat | 257,038 |
| 18 | Latina | 256,644 |
| 19 | Carabanchel | 253,678 |
| 20 | A Coruna | 246,056 |
| 21 | Puente de Vallecas | 244,151 |
| 22 | Sant Marti | 235,719 |
| 23 | Gasteiz / Vitoria | 235,661 |
| 24 | Granada | 234,325 |
| 25 | Elche | 230,112 |
| 26 | Ciudad Lineal | 228,171 |
| 27 | Oviedo | 224,005 |
| 28 | Santa Cruz de Tenerife | 222,417 |
| 29 | Fuencarral-El Pardo | 220,085 |
| 30 | Badalona | 219,547 |
| 31 | Cartagena | 211,996 |
| 32 | Terrassa | 210,941 |
| 33 | Jerez de la Frontera | 207,532 |
| 34 | Sabadell | 206,493 |
| 35 | Mostoles | 206,478 |
| 36 | Alcala de Henares | 204,574 |
| 37 | Pamplona | 198,491 |
| 38 | Fuenlabrada | 197,836 |
| 39 | Almeria | 188,810 |
| 40 | Leganes | 186,066 |
| 41 | San Sebastian | 185,357 |
| 42 | Sants-Montjuic | 183,120 |
| 43 | Santander | 182,700 |
| 44 | Castello de la Plana | 180,005 |
| 45 | Burgos | 178,966 |
| 46 | Albacete | 169,716 |
| 47 | Horta-Guinardo | 168,092 |
| 48 | Alcorcon | 167,967 |
| 49 | Getafe | 167,164 |
| 50 | Nou Barris | 166,310 |
| 51 | San Blas-Canillejas | 157,367 |
| 52 | Salamanca | 155,619 |
| 53 | Tetuan de las Victorias | 155,000 |
| 54 | Logrono | 152,107 |
| 55 | La Laguna | 150,661 |
| 56 | City Center | 149,718 |
| 57 | Huelva | 148,806 |
| 58 | Arganzuela | 148,797 |
| 59 | Badajoz | 148,334 |
| 60 | Sarria-Sant Gervasi | 147,912 |
| 61 | Sant Andreu | 147,732 |
| 62 | Salamanca | 147,707 |
| 63 | Chamberi | 145,934 |
| 64 | Usera | 141,189 |
| 65 | Tarragona | 140,323 |
| 66 | Chamartin | 140,000 |
| 67 | Lleida | 135,919 |
| 68 | Marbella | 134,623 |
| 69 | Leon | 134,305 |
| 70 | Villaverde | 126,802 |