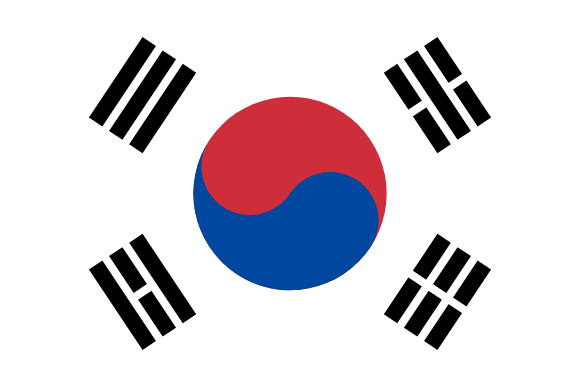 The South Korean national flag, commonly known as the Taegukgi or Taegeukgi (lit. 'Taiji flag,' is a symbol of the country and has been flown as the country's official flag since August 15, 1945, when the country earned independence from Japan.
A white rectangular backdrop with a red and blue Taegeuk symbol in the center and four black trigrams, one in each corner, make up the flag. The Taegeuk sign depicts the universe's balance and harmony, and the four trigrams are symbols from ancient Chinese philosophy that reflect the four cardinal points and the universe's equilibrium. The Taegukgi is a national flag comparable to those flown by the Joseon dynasty, the Korean Empire, and the Korean government-in-exile during Japanese occupation.
South Korea flag downloads
Icon Flags
Raster Flags
Vector Flags
Icon Flags
Download South Korea flag Icon files
completely free for commercial and non-commercial use (public domain)
based on vector file from Wikipedia Commons
PNG or WebP format (lossless compression)
Right click on the links (save link as)
Original flags
Waving flags
Click on the link if you need to >>
download all country Icon flags
Raster Flags
Vector Flags
South Korea is a country located in East Asia, bordered by North Korea to the north, China to the west, and Japan to the east. It is a country with a rich cultural heritage and a mix of different ethnicities and religions. South Korea is known for its stunning natural beauty, with a varied landscape ranging from mountains and forests to beaches and coastlines.
The history of South Korea dates back to ancient times, with the first human settlements dating back to at least 4000 BC. The country has a long and complex history, with a mix of Korean, Chinese, and other influences. South Korea gained independence from Japan in 1945, and has since gone through a number of political and economic challenges.
Today, South Korea is a high-income country with a large and diversified economy. The country is known for its manufacturing industry, as well as for its production of agricultural products such as rice, wheat, and livestock. South Korea has a temperate climate, with four distinct seasons. The official language of South Korea is Korean.
| | |
| --- | --- |
| Independent | Yes |
| Country codes | KR, KOR (ISO 3166-1) |
| Official name | Republic of Korea |
| Official languages | Korean (Pyojuneo) |
| Religion | 56.1% No religion, 27.6% Christianity, 15.5% Korean Buddhism, 0.8% Others |
| Capital city | Seoul |
| Continent | Asia |
| Time zone | UTC+9 (Korea Standard Time) |
| Member of | United Nations |
| Population | 51,383,198 (2023) |
| Population density | 527 per Km2 (1,366 people per mi2) |
| Urban Population | 81.8 % of the population is urban (41,934,110 people in 2020) |
| Migrants (net) | 11,731 |
| Median age | 43.7 years |
| Total area | The total land area is 97,230 Km2 (37,541 sq. miles) |
| Highest point | Halla-san on Jejudo (1 950 m, 6 398 ft) |
| Lowest point | Sea of Japan |
| GDP per capita | $ 34,997 (World Bank, 2021) |
| Currency | South Korean won (₩, KRW) |
| Calling code | +82 |
| Internet TLD | .kr, .한국 (click here to find and register domain name) |
| Country Wikipedia Page | South Korea Wikipedia Page |
Main Cities by Population in South Korea
| # | CITY NAME | POPULATION |
| --- | --- | --- |
| 1 | Seoul | 10,349,312 |
| 2 | Busan | 3,678,555 |
| 3 | Incheon | 2,628,000 |
| 4 | Daegu | 2,566,540 |
| 5 | Daejeon | 1,475,221 |
| 6 | Gwangju | 1,416,938 |
| 7 | Suwon | 1,242,724 |
| 8 | Goyang-si | 1,073,069 |
| 9 | Seongnam-si | 1,031,935 |
| 10 | Ulsan | 962,865 |
| 11 | Bucheon-si | 850,731 |
| 12 | Jeonju | 711,424 |
| 13 | Ansan-si | 650,728 |
| 14 | Cheongju-si | 634,596 |
| 15 | Anyang-si | 634,367 |
| 16 | Changwon | 550,000 |
| 17 | Pohang | 500,000 |
| 18 | Uijeongbu-si | 479,141 |
| 19 | Hwaseong-si | 476,297 |
| 20 | Masan | 434,371 |
| 21 | Jeju City | 408,364 |
| 22 | Cheonan | 365,114 |
| 23 | Kwangmyong | 357,545 |
| 24 | Kimhae | 356,242 |
| 25 | Chinju | 307,242 |
| 26 | Yeosu | 295,538 |
| 27 | Gumi | 291,006 |
| 28 | Iksan | 283,501 |
| 29 | Mokpo | 268,402 |
| 30 | Gunsan | 243,406 |
| 31 | Wonju | 243,387 |
| 32 | Suncheon | 230,796 |
| 33 | Sejong | 230,327 |
| 34 | Chuncheon | 209,746 |
| 35 | Icheon-si | 196,230 |
| 36 | Guri-si | 195,236 |
| 37 | Gangneung | 180,611 |
| 38 | Yangju | 179,923 |
| 39 | Osan | 158,978 |
| 40 | Seogwipo | 155,691 |
| 41 | Gyeongju | 155,237 |
| 42 | Gimcheon | 150,000 |
| 43 | Jeongeup | 139,876 |
| 44 | Hanam | 134,902 |
| 45 | Gyeongsan-si | 129,903 |
| 46 | Andong | 129,319 |
| 47 | Hwado | 106,358 |
| 48 | Tonghae | 101,128 |
| 49 | Asan | 97,749 |
| 50 | Wabu | 96,775 |
| 51 | Namyangju | 90,798 |
| 52 | Kwangyang | 89,281 |
| 53 | Hongseong | 89,174 |
| 54 | Sokcho | 89,047 |
| 55 | Eisen | 84,625 |
| 56 | Wanju | 84,009 |
| 57 | Yangp'yong | 83,367 |
| 58 | Ungsang | 83,360 |
| 59 | Sinhyeon | 82,560 |
| 60 | Gwangju | 81,780 |
| 61 | Mungyeong | 81,525 |
| 62 | Naeso | 80,987 |
| 63 | Muan | 75,718 |
| 64 | Hongch'on | 75,251 |
| 65 | Changnyeong | 74,668 |
| 66 | Seosan | 74,208 |
| 67 | Koch'ang | 72,996 |
| 68 | Gongju | 72,435 |
| 69 | Kyosai | 72,124 |
| 70 | Yangsan | 71,936 |