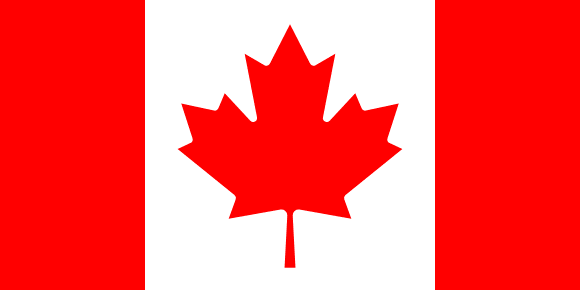 The flag of Canada is a red field with a white square at its center, featuring a stylized, red, 11-pointed maple leaf. The flag has a ratio of 1:2:1, with the white square and maple leaf taking up the center half of the flag.
The maple leaf is a symbol of Canada and has been used on the country's flag since 1965, when it was officially adopted by both houses of Parliament and proclaimed by the Canadian monarch as the national flag.
The flag is often referred to as the Maple Leaf or l'Unifolié (French for "the one-leafed"). The maple leaf design was chosen from three options by a committee led by Prime Minister Lester B. Pearson, and it is based on the flag of the Royal Military College of Canada.
The Canadian Red Ensign, which had been in unofficial use since the 1860s and was officially approved for use by an Order in Council in 1945, remains an official flag in Canada, symbolizing the country's allegiance to the monarch and membership in the Commonwealth of Nations. The Canadian flag is often used in conjunction with other flags, such as those of government bodies and military forces, and it appears on the government's wordmark.
Icon Flags
Raster Flags
Vector Flags
Icon Flags
Download Canada flag Icon files
completely free for commercial and non-commercial use (public domain)
based on vector file from Wikipedia Commons
PNG or WebP format (lossless compression)
Right click on the links (save link as)
Original flags
Waving flags
Click on the link if you need to >>
download all country Icon flags
Raster Flags
Vector Flags
Canada is a country located in North America, bordered by the United States to the south and the Arctic Ocean to the north. It is the second largest country in the world by land area, and it is home to over 38 million people.
Canada has a varied landscape, with mountains, forests, lakes, and rivers covering much of its territory. The country is known for its cold winters and beautiful natural scenery, including Niagara Falls and the Rocky Mountains.
The official languages of Canada are English and French, reflecting the country's history as a British and French colony. Canada is a multicultural and bilingual country, with people from a wide range of ethnic and cultural backgrounds living there.
Canada has a strong economy, with a diverse range of industries including agriculture, forestry, mining, and manufacturing. It is also a major exporter of natural resources such as oil and timber.
The country has a parliamentary democracy, with a federal system of government. It is a member of the United Nations and the G7, and it has a strong relationship with the United States, its southern neighbor.
Canada is known for its high standard of living and its strong social safety net, including universal healthcare and free public education. It is also home to a vibrant arts and culture scene, with a thriving music, film, and literature industry.
Overall, Canada is a beautiful, diverse, and prosperous country with a rich history and culture. It is an important player on the global stage and is known for its commitment to human rights and social justice.
Independent

Yes

Country codes

CA, CAN (ISO 3166-1)

Official name

Canada

Official languages

English and French

Religion

53.3% Christianity, 34.6% No religion, 4.9% Islam, Hinduism 2.3%, Sikhism 2.1%, Buddhism 1.0%, Judaism 0.9%

Capital city

Ottawa

Continent

North America

Time zone

UTC−3.5 to −8 • Summer (DST) • UTC−2.5 to −7

Member of

United Nations
Commonwealth of Nations
Organization of American States
NATO

Population

38,573,417 (2023)

Population density

4 per Km2 (11 people per mi2)

Urban Population

81.3 % of the population is urban (30,670,064 people in 2020)

Migrants (net)

242,032

Median age

41.1 years

Total area

The total land area is 9,093,510 Km2 (3,511,022 sq. miles)

Highest point

Mount Logan (5 959 m, 19 551 ft)

Lowest point

North Atlantic Ocean

GDP per capita

$ 51,987 (World Bank, 2021)

Currency

Canadian dollar ($, CAD)

Calling code

+1

Internet TLD

.ca (click here to find and register domain name)

Country Wikipedia Page

Canada Wikipedia Page
Main Cities by Population in Canada
| # | CITY NAME | POPULATION |
| --- | --- | --- |
| 1 | Toronto | 2,600,000 |
| 2 | Montreal | 1,600,000 |
| 3 | Calgary | 1,019,942 |
| 4 | Ottawa | 812,129 |
| 5 | Edmonton | 712,391 |
| 6 | Mississauga | 668,549 |
| 7 | North York | 636,000 |
| 8 | Winnipeg | 632,063 |
| 9 | Scarborough | 600,000 |
| 9 | Vancouver | 600,000 |
| 10 | Quebec | 528,595 |
| 11 | Hamilton | 519,949 |
| 12 | Brampton | 433,806 |
| 13 | Surrey | 394,976 |
| 14 | Laval | 376,845 |
| 15 | Halifax | 359,111 |
| 16 | Etobicoke | 347,948 |
| 17 | London | 346,765 |
| 18 | Okanagan | 297,601 |
| 19 | Victoria | 289,625 |
| 20 | Windsor | 278,013 |
| 21 | Markham | 261,573 |
| 22 | Oshawa | 247,989 |
| 23 | Gatineau | 242,124 |
| 24 | Vaughan | 238,866 |
| 25 | Kitchener | 233,700 |
| 26 | Longueuil | 229,330 |
| 27 | Burnaby | 202,799 |
| 28 | Ladner | 200,000 |
| 29 | Saskatoon | 198,958 |
| 30 | Richmond Hill | 185,541 |
| 31 | Barrie | 182,041 |
| 32 | Richmond | 182,000 |
| 33 | Nepean | 180,000 |
| 34 | Regina | 176,183 |
| 35 | Oakville | 165,697 |
| 36 | Burlington | 164,415 |
| 37 | Greater Sudbury | 157,857 |
| 38 | Abbotsford | 151,683 |
| 39 | Saguenay | 143,692 |
| 40 | St. Catharines | 131,989 |
| 41 | Sherbrooke | 129,447 |
| 42 | Anmore | 126,456 |
| 43 | Levis | 126,396 |
| 44 | Kelowna | 125,109 |
| 45 | Cambridge | 120,372 |
| 46 | Trois-Rivieres | 119,693 |
| 47 | Guelph | 115,760 |
| 48 | East York | 115,365 |
| 49 | Coquitlam | 114,565 |
| 50 | Kingston | 114,195 |
| 51 | Sydney | 105,968 |
| 52 | Delta | 101,668 |
| 53 | Dartmouth | 101,343 |
| 54 | Thunder Bay | 99,334 |
| 55 | St. John's | 99,182 |
| 56 | Waterloo | 97,475 |
| 57 | Terrebonne | 94,703 |
| 58 | Ajax | 90,167 |
| 59 | Saint John | 87,857 |
| 60 | Pickering | 87,838 |
| 61 | Brantford | 87,759 |
| 62 | Moncton | 87,467 |
| 63 | Nanaimo | 84,905 |
| 64 | Milton | 84,362 |
| 65 | Sarnia | 82,998 |
| 66 | Niagara Falls | 82,000 |
| 67 | Willowdale | 79,440 |
| 68 | Saint-Laurent | 77,391 |
| 69 | Chilliwack | 77,000 |