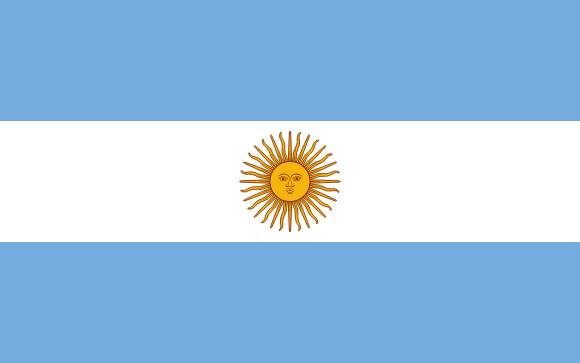 The flag of Argentina is a blue and white flag with a sun in the center. The flag was officially adopted on February 27, 1812, and has undergone a number of changes over the years.
The color blue on the flag of Argentina represents the clear blue skies of the country, which is known for its beautiful natural landscapes. The color white represents the country's purity and innocence.
The sun in the center of the flag is a symbol of the Inca sun god, Inti, and is thought to represent the country's bright future and prosperity. The sun is shown with a face and a human figure, which is meant to represent the sun's warmth and life-giving power.
Icon Flags
Raster Flags
Vector Flags
Icon Flags
Download Argentina flag Icon files
completely free for commercial and non-commercial use (public domain)
based on vector file from Wikipedia Commons
PNG or WebP format (lossless compression)
Right click on the links (save link as)
Original flags
Waving flags
Click on the link if you need to >>
download all country Icon flags
Raster Flags
Vector Flags
Argentina is a country located in South America, along the Atlantic Ocean. It is the second largest country in South America, and is bordered by Chile to the west, Bolivia and Paraguay to the north, Brazil to the northeast, Uruguay and the South Atlantic Ocean to the east, and the Drake Passage to the south. Argentina has a long and rich history, with a diverse culture that is influenced by a variety of different ethnic groups.
The history of Argentina dates back to pre-Columbian times, and the country was originally inhabited by indigenous Amerindian tribes. In the 16th century, Argentina was colonized by the Spanish, and the country gained its independence in 1816. Today, Argentina is a federal presidential representative democratic republic, with a president and vice president.
Argentina is known for its stunning natural beauty, with a variety of landscapes ranging from the Andes mountains in the west to the pampas in the east. The country is home to a number of protected areas, including the Iguazu National Park, which is home to the iconic Iguazu Falls, one of the largest and most spectacular waterfall systems in the world.
The culture of Argentina is a blend of European, indigenous, and African influences, with the official language of the country being Spanish. The majority of the population is Roman Catholic, but there are also significant Protestant, Jewish, and Muslim communities. Argentina is known for its rich cultural heritage, including its music, dance, literature, and art.
Independent

Yes

Country codes

AR, ARG (ISO 3166-1)

Official name

Argentine Republic

Official languages

Spanish

Religion

58.9% Christianity, 48.9% Roman Catholic, 10.0% Other Christian, 39.8% No religion, 1.3% Other

Capital city

Buenos Aires

Continent

South America

Time zone

UTC−3 (ART)

Member of

United Nations
Organization of American States
Union of South American Nations

Population

46,245,521 (2023)

Population density

17 per Km2 (43 people per mi2)

Urban Population

92.8 % of the population is urban (41,919,857 people in 2020)

Migrants (net)

4,800

Median age

31.5 years

Total area

The total land area is 2,736,690 Km2 (1,056,641 sq. miles)

Highest point

Aconcagua (6 960 m, 22 835 ft)

Lowest point

Laguna del Carbón (-105 m, -344 ft)

GDP per capita

$ 10,636 (World Bank, 2021)

Currency

Argentine peso ($, ARS)

Calling code

+54

Internet TLD

.ar (click here to find and register domain name)

Country Wikipedia Page

Argentina Wikipedia Page
Main Cities by Population in Argentina
| # | CITY NAME | POPULATION |
| --- | --- | --- |
| 1 | Buenos Aires | 13,076,300 |
| 2 | Cordoba | 1,428,214 |
| 3 | Rosario | 1,173,533 |
| 4 | Mendoza | 876,884 |
| 5 | San Miguel de Tucuman | 781,023 |
| 6 | La Plata | 694,167 |
| 7 | Mar del Plata | 553,935 |
| 8 | Salta | 512,686 |
| 9 | Santa Fe | 489,505 |
| 10 | San Juan | 447,048 |
| 11 | Resistencia | 387,158 |
| 12 | Santiago del Estero | 354,692 |
| 13 | Corrientes | 339,067 |
| 14 | Posadas | 323,739 |
| 15 | Moron | 319,934 |
| 16 | San Salvador de Jujuy | 305,891 |
| 17 | Bahia Blanca | 276,546 |
| 18 | Parana | 262,295 |
| 19 | Neuquen | 242,092 |
| 20 | Quilmes | 230,000 |
| 21 | Pilar | 226,517 |
| 22 | Formosa | 221,383 |
| 23 | San Fernando del Valle de Catamarca | 188,812 |
| 24 | San Luis | 183,982 |
| 25 | Berazategui | 167,498 |
| 26 | La Rioja | 162,620 |
| 27 | Rio Cuarto | 153,757 |
| 28 | Balvanera | 152,198 |
| 29 | Concordia | 145,210 |
| 30 | Comodoro Rivadavia | 140,850 |
| 31 | Belgrano | 138,942 |
| 32 | San Nicolas de los Arroyos | 127,742 |
| 33 | Villa Lugano | 114,000 |
| 34 | Santa Rosa | 111,424 |
| 35 | San Rafael | 109,163 |
| 36 | Tandil | 104,325 |
| 37 | Villa Mercedes | 96,781 |
| 38 | San Carlos de Bariloche | 95,394 |
| 39 | Trelew | 93,442 |
| 40 | Villa Maria | 92,453 |
| 41 | Reconquista | 90,184 |
| 42 | Zarate | 88,781 |
| 43 | Rafaela | 88,713 |
| 44 | Pergamino | 87,652 |
| 45 | Olavarria | 86,320 |
| 46 | Rio Gallegos | 85,700 |
| 47 | Junin | 85,007 |
| 48 | San Martin | 82,549 |
| 49 | Presidencia Roque Saenz Pena | 81,879 |
| 50 | Lujan | 81,749 |
| 51 | Campana | 81,612 |
| 52 | Necochea | 80,478 |
| 53 | Gualeguaychu | 78,676 |
| 54 | Barracas | 77,474 |
| 55 | Cipolletti | 75,078 |
| 56 | Gobernador Galvez | 74,650 |
| 57 | San Ramon de la Nueva Oran | 74,059 |
| 58 | Chimbas | 73,829 |
| 59 | General Roca | 73,212 |
| 60 | Venado Tuerto | 72,340 |
| 61 | Goya | 70,245 |
| 62 | Villa Carlos Paz | 69,451 |
| 63 | Concepcion del Uruguay | 67,895 |
| 64 | Puerto Madryn | 64,555 |
| 65 | Tartagal | 60,819 |
| 66 | Santo Tome | 59,072 |
| 67 | San Francisco | 59,062 |
| 68 | San Pedro de Jujuy | 58,430 |
| 69 | Ushuaia | 58,028 |
| 70 | Punta Alta | 57,209 |