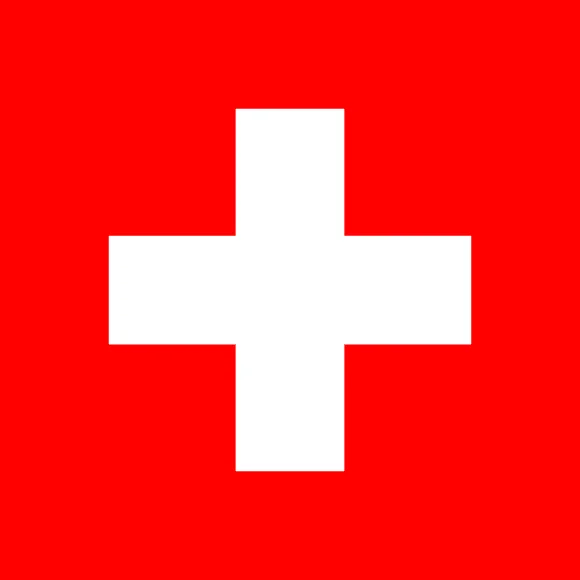 Switzerland's national flag is a square red field with a white cross in the center. The white cross, also known as the Swiss cross or the federal cross, is composed of equilateral arms with a length-to-width ratio of 7:6. In 2017, the official size of the cross in proportion to the field was set at 5:8. The flag is the world's only square national flag.
Since the late 13th or early 14th century, the white cross has been used as a symbol of the Old Swiss Confederacy. It has been used as a field symbol on warriors' apparel and cantonal war banners. During the Napoleonic Wars, it also functioned as the national ensign. It was officially recognized as the federal coat of arms in 1815 and was used alongside a five-square cross until 1889, when its dimensions were officially defined.
Switzerland has a civil and state ensign in addition to the national flag for ships and non-governmental organizations. This flag is rectangular in shape and has a 2:3 aspect ratio. The Red Cross insignia is the Swiss flag with the colors inverted.
Switzerland flag downloads
Icon Flags
Raster Flags
Vector Flags
Icon Flags
Download Switzerland flag Icon files
completely free for commercial and non-commercial use (public domain)
based on vector file from Wikipedia Commons
PNG or WebP format (lossless compression)
Right click on the links (save link as)
Original flags
Waving flags
Click on the link if you need to >>
download all country Icon flags
Raster Flags
Vector Flags
Switzerland is a country located in Central Europe, bordered by Germany to the north, France to the west, Italy to the south, and Austria and Liechtenstein to the east. It is a small, landlocked country with a rich cultural heritage and a mix of different ethnicities and religions. Switzerland is known for its stunning natural beauty, with a varied landscape ranging from mountains and forests to lakes and valleys.
The history of Switzerland dates back to ancient times, with the first human settlements dating back to at least 4000 BC. The country has a long and complex history, with a mix of Celtic, Roman, and other influences. Switzerland gained independence from the Holy Roman Empire in the 13th century, and has since gone through a number of political and economic challenges.
Today, Switzerland is a high-income country with a large and diversified economy. The country is known for its banking and financial services industry, as well as for its production of agricultural products such as wheat, corn, and livestock. Switzerland has a temperate climate, with four distinct seasons. The official languages of Switzerland are German, French, Italian, and Romansh, and the country has a diverse population with a mix of different ethnicities and religions.
| | |
| --- | --- |
| Independent | Yes |
| Country codes | CH, CHE (ISO 3166-1) |
| Official name | Swiss Confederation |
| Official languages | German, French, Italian, Romansh |
| Religion | 62.6% Christianity, 29.4% No religion, 5.4% Islam, 0.6% Hinduism, 0.9% Others, 1.1% No answer |
| Capital city | Bern |
| Continent | Europe |
| Time zone | UTC+1 (CET) • Summer (DST) • UTC+2 (CEST) |
| Member of | United Nations |
| Population | 8,818,431 (2023) |
| Population density | 219 per Km2 (567 people per mi2) |
| Urban Population | 74.1 % of the population is urban (6,408,840 people in 2020) |
| Migrants (net) | 52,000 |
| Median age | 43.1 years |
| Total area | The total land area is 39,516 Km2 (15,257 sq. miles) |
| Highest point | Dufourspitze (4 634 m, 15 203 ft) |
| Lowest point | Lake Maggiore (193 m, 633 ft) |
| GDP per capita | $ 91,991 (World Bank, 2021) |
| Currency | Swiss franc (Fr, CHF) |
| Calling code | +41 |
| Internet TLD | .ch (click here to find and register domain name) |
| Country Wikipedia Page | Switzerland Wikipedia Page |
Main Cities by Population in Switzerland
| # | CITY NAME | POPULATION |
| --- | --- | --- |
| 1 | Zurich | 341,730 |
| 2 | Geneve | 183,981 |
| 3 | Basel | 164,488 |
| 4 | Bern | 121,631 |
| 5 | Lausanne | 116,751 |
| 6 | Winterthur | 91,908 |
| 7 | Sankt Gallen | 70,572 |
| 8 | Lugano | 63,000 |
| 9 | Luzern | 57,066 |
| 10 | Zuerich (Kreis 11) | 54,260 |
| 11 | Biel/Bienne | 48,614 |
| 12 | Zuerich (Kreis 3) | 46,018 |
| 13 | Zuerich (Kreis 9) | 44,878 |
| 14 | Thun | 42,136 |
| 15 | Koniz | 37,196 |
| 16 | La Chaux-de-Fonds | 36,825 |
| 17 | Zuerich (Kreis 10) | 36,216 |
| 18 | Rapperswil | 34,776 |
| 19 | Schaffhausen | 33,863 |
| 20 | Zuerich (Kreis 7) | 33,820 |
| 21 | Fribourg | 32,827 |
| 22 | Chur | 32,429 |
| 23 | Neuchatel | 31,270 |
| 24 | Vernier | 30,086 |
| 25 | Zuerich (Kreis 6) | 29,951 |
| 26 | Zuerich (Kreis 2) | 29,215 |
| 27 | Zuerich (Kreis 9) / Altstetten | 28,307 |
| 28 | Zuerich (Kreis 12) | 28,189 |
| 29 | Sitten | 28,045 |
| 30 | Lancy | 27,291 |
| 31 | Zuerich (Kreis 4) / Aussersihl | 27,273 |
| 32 | Emmen | 26,889 |
| 33 | Kriens | 25,010 |
| 34 | Yverdon-les-Bains | 23,702 |
| 35 | Zug | 23,435 |
| 36 | Uster | 23,279 |
| 37 | Montreux | 22,897 |
| 38 | Frauenfeld | 21,979 |
| 39 | Zuerich (Kreis 3) / Sihlfeld | 20,977 |
| 40 | Dietikon | 20,893 |
| 41 | Baar | 20,546 |
| 42 | Zuerich (Kreis 6) / Unterstrass | 20,045 |
| 43 | Riehen | 20,000 |
| 44 | Dubendorf | 19,882 |
| 45 | Meyrin | 19,772 |
| 46 | Carouge | 19,344 |
| 47 | Wettingen | 18,191 |
| 48 | Allschwil | 18,189 |
| 49 | Zuerich (Kreis 11) / Oerlikon | 17,922 |
| 50 | Zuerich (Kreis 11) / Seebach | 17,851 |
| 51 | Renens | 17,811 |
| 52 | Kreuzlingen | 17,655 |
| 52 | Jona | 17,655 |
| 53 | Onex | 17,302 |
| 54 | Zuerich (Kreis 11) / Affoltern | 17,241 |
| 55 | Zuerich (Kreis 10) / Hoengg | 17,117 |
| 56 | Gossau | 17,043 |
| 57 | Muttenz | 16,927 |
| 58 | Wil | 16,808 |
| 59 | Nyon | 16,797 |
| 60 | Bellinzona | 16,572 |
| 61 | Zuerich (Kreis 9) / Albisrieden | 16,480 |
| 62 | Olten | 16,411 |
| 63 | Oberwinterthur (Kreis 2) | 16,356 |
| 64 | Kloten | 16,289 |
| 65 | Pully | 16,263 |
| 66 | Stadt Winterthur (Kreis 1) | 16,182 |
| 67 | Littau | 16,121 |
| 68 | Baden | 16,118 |
| 69 | Zuerich (Kreis 2) / Wollishofen | 16,073 |