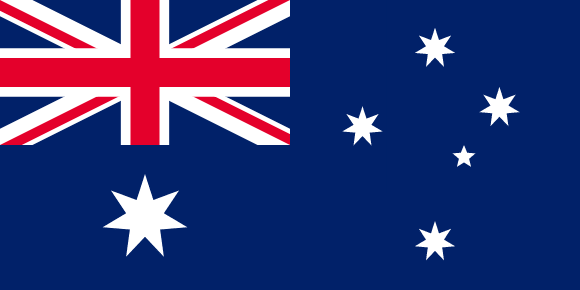 The flag of Australia is a blue flag with the Union Jack in the upper left corner and six white stars in the center. The flag was officially adopted on September 3, 1901, and is based on the flag of the United Kingdom, with a few slight modifications.
The color blue on the flag of Australia represents the country's clear blue skies and the Pacific Ocean, which surrounds the country. The Union Jack in the upper left corner of the flag represents Australia's history as a British colony and its close ties to the United Kingdom.
The six white stars on the flag represent the six states of Australia: New South Wales, Queensland, South Australia, Tasmania, Victoria, and Western Australia. The stars are arranged in the shape of the Southern Cross constellation, which is a prominent feature in the southern hemisphere and is a symbol of the country's location in the southern hemisphere.
Icon Flags
Raster Flags
Vector Flags
Icon Flags
Download Australia flag Icon files
completely free for commercial and non-commercial use (public domain)
based on vector file from Wikipedia Commons
PNG or WebP format (lossless compression)
Right click on the links (save link as)
Original flags
Waving flags
Click on the link if you need to >>
download all country Icon flags
Raster Flags
Vector Flags
Australia is a country located in the southern hemisphere, comprising the mainland of the Australian continent, the island of Tasmania, and numerous smaller islands. It is the sixth largest country in the world, and is located to the southeast of Asia, between the Pacific and Indian oceans. Australia has a rich history and culture, with a diverse population that is influenced by a variety of different cultures.
The history of Australia dates back to ancient times, and the continent was originally inhabited by indigenous Aboriginal and Torres Strait Islander peoples. In the late 18th century, the British established colonies on the east coast of Australia, and the country gained its independence in 1901. Today, Australia is a federal parliamentary democracy with a queen and a prime minister.
Australia is known for its stunning natural beauty, with a varied landscape ranging from rugged coastlines and sandy beaches to the outback, a vast and sparsely populated region that is home to a unique ecosystem. The country is home to a number of protected areas, including the Great Barrier Reef, the largest coral reef system in the world, and the Uluru-Kata Tjuta National Park, which is home to the iconic Uluru, a large sandstone rock formation that is sacred to the indigenous Anangu people.
The culture of Australia is a blend of indigenous, British, and other European influences, with the official language of the country being English. The majority of the population is Christian, but there are also significant Muslim, Hindu, and Buddhist communities. Australia is known for its rich cultural heritage, including its music, dance, literature, and art.
Independent

Yes

Country codes

AU, AUS (ISO 3166-1)

Official name

Commonwealth of Australia

Official languages

English

Religion

43.9% Christianity, 38.9% No religion, 3.2% Islam, 2.7% Hinduism, 2.4% Buddhism, 1.7% Others, 7.2% Unanswered

Capital city

Canberra

Continent

Oceania

Time zone

UTC+8; +9.5; +10 • Summer (DST) UTC+8; +9.5; +10;+10.5; +11

Member of

United Nations
Commonwealth of Nations
Pacific Community

Population

26,235,147 (2023)

Population density

3 per Km2 (9 people per mi2)

Urban Population

85.9 % of the population is urban (21,903,705 people in 2020)

Migrants (net)

158,246

Median age

37.9 years

Total area

The total land area is 7,682,300 Km2 (2,966,151 sq. miles)

Highest point

Mount Kosciuszko (2 228 m, 7 310 ft)

Lowest point

Lake Eyre (-15 m, -49 ft)

GDP per capita

$ 60,443 (World Bank, 2021)

Currency

Australian dollar ($, AUD)

Calling code

+61

Internet TLD

.au (click here to find and register domain name)

Country Wikipedia Page

Australia Wikipedia Page
Main Cities by Population in Australia
| # | CITY NAME | POPULATION |
| --- | --- | --- |
| 1 | Sydney | 4,627,345 |
| 2 | Melbourne | 4,246,375 |
| 3 | Brisbane | 2,189,878 |
| 4 | Perth | 1,896,548 |
| 5 | Adelaide | 1,225,235 |
| 6 | Gold Coast | 591,473 |
| 7 | Canberra | 367,752 |
| 8 | Newcastle | 308,308 |
| 9 | Wollongong | 292,190 |
| 10 | Logan City | 282,673 |
| 11 | Geelong | 226,034 |
| 12 | Hobart | 216,656 |
| 13 | Townsville | 196,219 |
| 14 | Cairns | 153,075 |
| 15 | Toowoomba | 131,258 |
| 16 | Darwin | 129,062 |
| 17 | Rockingham | 108,022 |
| 18 | Launceston | 106,153 |
| 19 | Bendigo | 100,617 |
| 20 | Ballarat | 97,937 |
| 21 | Mandurah | 83,294 |
| 22 | Mackay | 74,219 |
| 23 | Bundaberg | 70,826 |
| 24 | Bunbury | 68,248 |
| 25 | Maitland | 67,132 |
| 26 | Armadale | 62,296 |
| 27 | Rockhampton | 61,724 |
| 28 | Adelaide Hills | 60,394 |
| 29 | South Brisbane | 60,000 |
| 30 | Hervey Bay | 52,230 |
| 31 | Reservoir | 47,637 |
| 32 | Tamworth | 47,597 |
| 33 | Wagga Wagga | 46,913 |
| 34 | Albury | 45,627 |
| 35 | Berwick | 44,779 |
| 36 | Port Macquarie | 41,491 |
| 37 | Queanbeyan | 40,661 |
| 38 | Orange | 39,329 |
| 39 | Blacktown | 39,000 |
| 40 | Shepparton | 38,773 |
| 41 | Caloundra | 38,706 |
| 42 | Hoppers Crossing | 38,108 |
| 43 | Werribee | 37,737 |
| 44 | Melton | 35,490 |
| 45 | Castle Hill | 35,389 |
| 46 | Saint Albans | 35,091 |
| 47 | Nowra | 34,479 |
| 48 | Frankston | 34,457 |
| 48 | Frankston East | 34,457 |
| 49 | Rowville | 34,145 |
| 50 | Warrnambool | 33,982 |
| 51 | Baulkham Hills | 33,945 |
| 52 | Albany | 33,650 |
| 53 | Mount Waverley | 33,611 |
| 54 | St Albans | 33,511 |
| 55 | Auburn | 33,122 |
| 56 | Bathurst | 33,110 |
| 57 | Pakenham South | 32,911 |
| 58 | Point Cook | 32,413 |
| 59 | Dubbo | 32,327 |
| 60 | Epping | 32,200 |
| 61 | Wodonga | 31,605 |
| 62 | Kalgoorlie | 31,107 |
| 63 | Bankstown | 30,572 |
| 64 | Mill Park | 30,517 |
| 65 | Gladstone | 30,489 |
| 66 | Kwinana | 30,433 |
| 67 | Lismore | 30,086 |
| 68 | Mildura | 30,016 |
| 69 | Preston | 29,925 |